Cookin' Local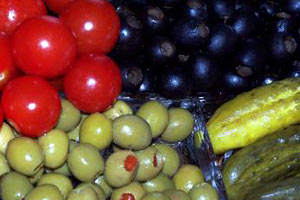 by Linda Buzzell-Saltzman
HopeDance, November-December, 2005
Before there was globalization, there was local cooking. Cooks knew how to grow and find the tastiest, most nutritious local ingredients and craft them into delicious regional specialties. When people traveled, they delighted in the discovery of a diversity of delights unique to each bioregion.
Cut to… the petroleum era of corporate globalization. Food from around the world is now available in profusion at the local supermarket. Any ingredient called for in even the most exotic cookbook is available either at the store or will be shipped to you overnight from some internet source. Out of season in the Northern Hemisphere? No problem – ship it in from Chile.
So what has this done to the humble art of cooking?
The good news, of course, is that most of us have been able to enjoy multiple national cuisines right here at home, and many of us have even learned to cook in multiple "languages."
The bad news is that many of us, if we even cook at all (some huge percentage of American meals are eaten in restaurants), have been trained to cook from detailed recipes listing exact ingredients that are presumed to be available at the local market 12 months a year.
Being part of a "Relocalizing Food" Circle [in Santa Barbara] has begun to change all this at our house. We now order our veggies from a local farm each week and we've had to relearn cooking in the style of our great-grandparents: using pattern recipes and adapting them based on what the farm and our garden have to offer this week.
Far from being a deprivation, this has enriched our lives tremendously. But it took a bit of adjustment, and in this article I'd like to share a few ideas that have eased the transition for us.
Pattern Recipes
Until a few months ago, I had no idea what a pattern recipe was. Recipes to me were those detailed things in Martha Stewart magazines or The Joy of Cooking. I didn't have a nice Mediterranean grandma to watch as she winged it and invented the day's feast from whatever was around.
But even without a Nona, I started to get it. A pattern recipe is a basic set of steps our grandmothers always took, but they varied the ingredients with the season, the garden and what looked good at the nearby farmer's stall. This seems so obvious, but my whole experience of recipes had led me to believe that you included only the specific ingredients listed in the recipe. I'm sure many great chefs and excellent home cooks (maybe most of you reading this article) have always known how to adapt creatively, but I certainly didn't… After all, why make substitutions if the actual ingredients were in the supermarket? Raspberries in December? No problem – just ship them in from New Zealand. Who cares how much carbon dioxide goes into the atmosphere? But as the price of oil hits the stratosphere, we'll be less and less likely to want those overpriced berries from Down Under.
What's Available When?
I've always felt kind of overwhelmed by the huge variety of foods available at supermarkets — I'm the kind of person who gets dizzy at Costco from the "noise" of so many products — so I welcome the limitation (relief!) of focusing only on what's in season and what grows in our area. We're lucky, of course, here on the central coast. We can grow a wide variety of delicious food year-round.
Being a home gardener also helped make me more aware of the seasons and what grows when. (It also made me appreciate farmers!) And visiting local farms and the Farmers Market educated me further.
My Favorite Pattern Recipe: Veggie Polenta Casserole
Just in case you might enjoy experimenting, I'd like to share my favorite pattern recipe. It's not as simple as the versatile stir-fry, but it's glamorous enough to serve both at home and at a party. It's been adapted from "Joy of Cooking."
1. Preheat oven to 350.

2. In a large frying pan or wok, fry onion or leeks and some assorted veggies in butter and/or oil. I've used chopped red bell pepper, carrot, celery. Cook over medium heat 3 minutes or more.

3. Add 2 cloves chopped garlic. Cook 2 minutes more.

4. Add some more chopped veggies. I've used yellow squash, zucchini, corn, julienned greens (chard from the garden). Cook 4-5 minutes more.

5. In a large bowl, mix 1/2 cup cornmeal, 1/4 cup flour, 1/4 cup grated Parmesan, 1 tablespoon thyme or oregano leaves, 1 teaspoon salt, 1 teaspoon ground pepper. (To vary the flavor next time you cook this, try adding things like hot pepper flakes, cumin, oregano, curry powder, etc.)

6. In a small bowl, whisk together 1 cup milk, 2 large eggs. If you feel like it, add a dash of chipotle sauce or Worcestershire.

7. Add egg mix to dry stuff in big bowl. Whisk. Add veggies. You can also add some cooked or canned beans, cooked potatoes, pre-cooked veggies like broccoli etc. at this point to make a more "winter-y" casserole.

8. Pour the whole mess into an oven-proof, buttered casserole.

9. Bake 'til firm, 25-30 minutes or until a knife poked into the center comes out "clean."

10. Top w/ grated cheese (we use a soy cheese).

11. Bake another 7 minutes until cheese melts and is golden.

12. Serve hot or at room temperature with a crisp green salad, a nice local wine, some homemade bread. Enjoy!
The key with any pattern recipe is not to be afraid to experiment. If you have other things hanging around, try including them. Capers? Olives? Extra croutons? Why not. A pattern recipe is a very forgiving thing.
Other Pattern Recipes
There are many other things besides casseroles, of course, that lend themselves admirably to local-ingredient/pattern cooking. Many of us already use the stir-fry this way, throwing in whatever is in the garden or at the farm stand. Wraps of various kinds (burritos, crepes etc.) can be filled with veggies, rice, legumes, cheese, eggs and seasoned in many ways. Pasta with veggies can be adapted seasonally. Savory and sweet pies welcome seasonal fruits and vegetables of all kinds. It's amazing how creative you can be once you get the general idea of just working with what's growing or what you've dried, canned or frozen from last summer.
The Ultimate Pattern Recipe and Comfort Food: Soup
I love making soups. Especially at this time of year. I save veggie trimmings from whatever I'm making, freezing them until I have enough. Then I boil them in lots of water, adding a few herbs, to make a tasty stock. When you have your stock, you're ready to make soup. Fry up onions. Add finely chopped carrots and celery if you have them. If you don't, no big deal. Add garlic but don't let it brown. Then add 1-2 cups of lentils or dried beans and your stock. Bring to a boil, then lower to a simmer and let it bubble along gently until the legumes are soft but not falling apart. (Don't add salt until your legumes are cooked or they'll be tough).
At this point I add a big mess of chopped veggies (a mix of whatever's available), a few seasonings and simmer 'til they're soft – usually 15 - 20 minutes or so. And sometimes I cheat and add a can of organic tomatoes (certainly not local but tasty!)
This soup is delicious with Larry's homemade bread (that's another whole article right there – he grinds his own grain, seed and bean flour, including leucaena seeds from the garden, lentils, soybeans, whole heritage grains like kamut, spelt, etc).
Now that's soul food central coast style!