LIFEWORK: Meaningful Careers in the Emerging Sustainable Society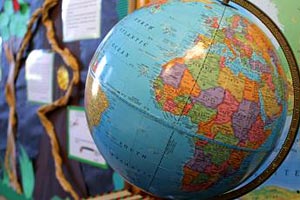 Linda Buzzell-Saltzman, M.A., M.F.T.
HopeDance, April-May, 2005
Featured Pick by Utne Reader

PREPARING FOR CHANGE
"The tide is already turning. Global society has begun reversing directions into an Age of Restoration. Though this movement remains relatively small today, it's growing by leaps and bounds. It's a matter of when, not if. The enterprise of restoration promises an unparalleled economic boom and global jobs creation, starting with a Marshall Plan for clean energy. It's time to repair our relationship with the living world and with each other. If we let our hearts guide us, we won't go wrong." — Kenny Ausubel, Bioneers Letter: Visionary Solutions for Restoring the Earth, Spring 2003
More and more people are leaving corporate life — by choice or as a result of disappearing jobs — to search for careers that fit their personal and political values.
"Another World is Possible," the chant of activists around the world, isn't just a utopian dream. In every sector of the economy, people are now finding work and creating jobs and businesses that are in alignment with their values and their vision of how the planet needs to run in order for human life and nature to survive and thrive.
Where could you fit in? Green building? Alternative health care? Environmental restoration? Non-corporate arts and media? Wind energy? Animal-assisted healing? Organic food? Spiritual community? Peacemaking? Non-traditional education? Ecopsychology? Alternative business?
These are indeed exciting possibilities. But to make the change from unsustainable employment to sustainable opportunity, it is important for us to understand the deep grassroots changes happening in our society and to make the practical lifestyle adjustments that allow us to transition into the career of our dreams, our "right livelihood," calling, "bliss" or true vocation. We can explore the many new career opportunities arising in the 17 sectors of society (click here for the full list), including health, food, shelter, clothing, energy, science/technology, community, education, arts/communication and many more. Each is in some stage of transition from unsustainable to sustainable. You may be one of the sustainability pioneers involved in moving them forward.
THE DEEP GRASSROOTS CHANGES HAPPENING IN OUR SOCIETY
At this time in history, we are experiencing the "revolution in values" called for by Dr. Martin Luther King, Jr. The critical task of our generation is to build a society "as if people and other living beings mattered," before it's too late.
The work is well under way. Philosophers and spiritual leaders like Dr. King, Gandhi and the Dalai Lama have laid out the paths. Thousands of pioneering environmentalists, scientists, inventors, healers, educators, business people and social entrepreneurs have laid the groundwork.Whether your interest is health care, business, education, manufacturing, agriculture or transportation, you may be able to work with these pioneers, or you may find yourself pioneering yet more fields.
MORE GOOD NEWS: THERE'S PLENTY OF WORK TO BE DONE!
As our society re-creates and restores itself from the ground up, creating a truly sustainable planet, there is a huge amount to be done. In fact, there aren't enough people yet doing the work. The challenge, of course, is to create a financially sustainable life for yourself and your family as you do this work.
THE CARROT AND THE STICK: FACING THE EXPORT OF MODERNIST JOBS
If the carrot of new opportunities isn't enough to motivate you to make a career change in your life, perhaps the "stick" of rapidly disappearing modernist jobs will prove to be a more powerful motivator. Sometimes the universe has to push us out of the nest, even a very befouled nest!
Every year "first world" countries like the United States and Europe find that more and more jobs which used to be done at home are now being done in other countries with a less costly labor force who will tolerate low pay, few benefits and poor or even toxic conditions. In my counseling office I see increasing numbers of highly-skilled, well-paid workers whose modernist jobs have decamped to the "third world." It started years ago with the export of steel and textile jobs and has expanded to manufacturing jobs of all kinds and now knowledge workers too are finding that people in India and China are being hired by U.S. corporations to do the work that used to be done here at home.
But guess what? This just proves that modernist economies are truly unsustainable. If "first world" workers are unemployed, who will buy the goods and services being produced cheaply in Shanghai or Delhi?
Take this as a wake-up call: why not make your move now to get ahead of the curve and create a career for yourself that is truly sustainable and unexportable?
SO WHAT'S THE CATCH? "May you live in interesting times" — Ancient Chinese curse
As a society, we're in transition, with a capital T. Many of the old high-paying modernist jobs that enabled us to be over-consumers, chomping our way to planetary destruction, are fading away. Some fields, like alternative energy, may soon turn into temporary gold rushes. Other jobs and professions may continue to pay at a consistent rate as they transform into "alternative" or "integrative" forms. But many of the most satisfying and exciting opportunities in the emerging sustainable society will actually require deep consciousness shifts as well as lifestyle reform.
We need to change ourselves before we change our occupations.
PREPARING FOR YOUR NEW CAREER: A CHANGE OF HEART AND A CHANGE OF LIFESTYLE
A CHANGE OF HEART
What means most to you in life? If you're like most Western consumers, you've been raised on tens of thousands of hours of commercials, TV shows and movies that entice you with the corporate vision of the good life: Stuff and Toys. But more and more people are waking up to what really matters: loving relationships, good health for our bodies, communities and the planet, fairly shared essential resources, creative expression and joyful contribution to the whole. These goals are actually much more achievable in the emerging sustainable society.
MAKE YOUR OWN LIFE SUSTAINABLE
The ultimate goal for many Cultural Creatives is to build a truly sustainable society, but it all starts at home — your home! Before you can consider making a career transition, you need to get your own house in order.
Western society at large is in the very early stages of recovery from consumerism. Statistics tell us that the U.S. is the big piggy at the trough: we consume 45% of the world's resources. If the rest of the world imitates us, it would take at least 3 planets to provide them with our goodies. That's the very definition of unsustainable.
America is awash in "stuff," and people are going into serious debt to acquire it. After all, we've been told it is our patriotic duty to be "good consumers" to keep the modernist economy rolling along.
DEAL WITH THE DEBT MONSTER.
Start paying off your debt and putting aside some savings.
For some of us, it's not so easy to stop the compulsive shopping and credit card use. If that's your situation, check out Debtors Anonymous (www.debtorsanonymous.org or www.debtorsanonymoussb.org). You'll find (free) support for kicking the addiction to consumerism and will learn to exchange old behaviors for new, more sustainable financial patterns.
No time? Dr. Richard Bruce Anderson recommends "try shutting off the TV." For most of us, that translates into an extra eight hours or so a week! And you'll rediscover reading, family meals, cards and board games too.
When one lives a modest life with ample free time, it becomes possible to do the things you really want to do: take classes, explore new possibilities.
And finally: take the leap. Whether it's taking a job that pays less money but satisfies your soul or creating a new business from scratch, it's all possible once you live a sustainable lifestyle.
AND KEEP IN MIND: YOUR CALLING DOESN'T HAVE TO BE YOUR TOTAL FINANCIAL SUPPORT
We all wish that our callings and our careers would be one and the same — and sometimes they are. But many people throughout history have found that a full-time or part-time "day job" has been a helpful way to pay the bills while working on their true life mission. Instead of being a curse, this secondary career — if carefully chosen so as not to interfere with your "real" work — can bring many benefits. It can free you up artistically and creatively, since you don't have to please a boss or fit into any pre-existing system. It can even be a source of fulfillment and inspiration.
Sometimes people rely on this source of money for a lifetime and sometimes they are able to put the secondary career aside when the calling becomes reliable financially. Either way, as long as you are also able to do your true work in addition to your "day job," it's not necessarily anything to be concerned about. We do what we have to.
Need further reassurance? Remind yourself that T.S. Eliot was a bank clerk; William Carlos Williams was a medical doctor.
CAREER OPPORTUNITIES IN THE EMERGING SUSTAINABLE SOCIETY: "Soil, soul and society"
THE EMERGING SUSTAINABLE SOCIETY
The emerging sustainable society of the 21st century is not about returning to the ways of previous societies, however enlightened, but creating a new world while respecting and benefiting from the best of traditional and modern ideas, technologies, tools and methods from many cultures around the world.
THE TRANSITION
Every sector of modernist society needs to be reinvented to make life on this planet truly sustainable. In some fields, like medicine, the shift is already well under way. Alternative and integrative medicine are now fully accepted in many places, even by modernist insurance companies! It's entirely possible for an alternative health practitioner to make a decent living.
The organic food industry, slowly picking up steam since the 1960s, is now growing at 20% a year. More and more farmers and market gardeners are making a livable income by supplying this increasing demand.
But in other fields, the transition has barely begun and much pioneering work remains to be done — perhaps by you.
THE 17 SECTORS OF SOCIETY AND HOW THEY'RE EVOLVING TOWARDS SUSTAINABILITY
Every sector of society is in some stage of evolution between modernism and sustainability. As you explore these career arenas, keep in mind that there are meaningful work possibilities for Cultural Creatives both within the existing modernist structure and in the emerging sustainable society. You may be someone who has a traditional profession or job but can work from within to change things — or you may want to be part of the pioneering process, creating new professions and jobs in the emerging sustainable society.
To choose the appropriate sector for your interests, personality type, skills and gifts, take a look at the list of 17 Sectors.
Place a check mark next to the sectors that appeal to you most and read them carefully. Do you want to be part of the process of helping society transition from the unsustainable version of the sector to the sustainable, day in and day out? Would it be exciting enough to sustain you in the hard work involved?
Once you've decided on a sector, the next stage is research. You need to find out how far along the sustainability process is in the sector(s) you've chosen. As you read, you may decide this isn't for you — or you may find yourself getting more and more excited about being part of the transformation, seeing how your unique gifts and background will be useful in the emerging sustainable society.
Linda Buzzell-Saltzman, M.A., M.F.T. is a Santa Barbara psychotherapist and career counselor. She has taught classes at Santa Barbara City College Adult Education, including "Ecopsychology and Ecotherapy" and "New Career Opportunities in the Emerging Sustainable Society."