Report on the First Relocalizing Food Circle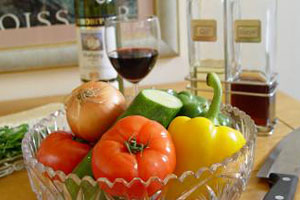 March - April, 2005
The Sustainable Small Cities Project, For the Future
During the first meetings of the circle, we collected ideas on how Santa Barbara could become more self-sufficient, sustainable and food-secure in the future.
Below are some of the great suggestions that were made. During subsequent meeting, we will work on creating a positive, creative and do-able vision of what a truly food-sustainable Santa Barbara would look like.
If you'd like to attend the next meeting of the Relocalizing Food Circle,
generally held the first Tuesday of the month at 7 p.m.,
contact linda (NoSpam) forthefuture.org for location information.
1. LAND
Land Trust – create a local land trust to preserve agricultural land. Model on Marin Agricultural Land Trust. Their website is http://www.malt.org/
Land Sharing – create a program to connect those with land they don't want to work or can't work with those who have no land and would like to grow crops on it and share the crops
Non-owned land – explore the availability of land that has been abandoned or ignored. Could it be converted to farms or community gardens?
Community Gardens. A critical part of local food sustainability so apartment dwellers and folks from all income levels can have access to food-growing land.
2. EDIBLE LANDSCAPING
School gardens – encourage schools at all levels – K-12, SBCC, UCSB, Westmont etc. to convert at least some of their land to gardens and include gardening, cooking, farming, agriculture, animal care etc. in curricula. Support and educate teachers and professors in this transition. Encourage schools to grow and provide healthy lunches and snacks.
Transforming lawns to food – encourage and support the conversion of portions of private, business, non-profit (the zoo, museums, charities etc.) and government landscaping, including street trees, to edibles and start groups of "gleaners" to harvest this food for various uses, including starting local artisan food businesses and donating to the Food Bank and various charities.
3. WATER
Conserve water. Pass resolutions to allow grey water systems, composting toilets, etc. Learn Permaculture water catchment techniques.
4. FARMERS MARKETS
Support the local Farmers Markets as they work to expand their outreach in our community.
5. ARTISAN FOOD BUSINESSES
Encourage the growing of special local food products and artisan food businesses. Local milling, baking, cheeses, jams, olives, sustainably produced organic wines etc.
6. RESTAURANTS
As 50% of local food dollars are spent away from home, it's important to encourage and support local restaurants and chefs to use more local, organic foods on their menus and to advertise and celebrate that fact.
Encourage a local version of the Chefs Collaborative to help local chefs develop and share delicious meals that can be made from seasonal foods.
7. FOOD MARKETS
Help local markets – both locally-owned and the chains – to convert from distant supply and distribution systems to the purchasing and showcasing of local foods in season.
8. FARMERS
Turn our farmers and ranchers into "local heroes." Understand their concerns and difficulties and find ways to help them make the transition from expensive non-sustainable practices to sustainable farming.
9. COOKING CLASSES
People won't grow food that they don't know how to enjoy. Support the formation of cooking classes which teach children and adults how to prepare the delightful foods that grow well here in Santa Barbara.
10. COMBINE THE EFFORTS OF LOCAL SUSTAINABILITY GROUPS
Create a collective mailing list, newsletter, social calendar to bring the whole sustainability community together to increase its local clout and importance.
11. RESACRALIZE FOOD
In most cultures, food is seen as sacred, not just an industrial commodity. Encourage local spiritual groups, churches to reinvigorate their sacred traditions regarding food.
12. RECOVERING LOCAL HISTORY OF FOOD PRODUCTION
In collaboration with local history organizations, the Mission huerta and Chumash groups, recover the history of food production on the Central Coast.
13. ENCOURAGE MEDIA ABOUT FOOD AND FOOD ISSUES
Make digital films about local food topics. Recruit local film students to shoot these mini-docs.
Approach local media about covering these issues and support those that already do so. Provide them with film and experts.
Create a TV program on Channel 17 on sustainability issues.
14. SUPPORT LOCAL FOOD BUSINESSES
Support local markets and restaurants that carry a "local food" sticker letting people know that they buy fresh ingredients from local farmers.
Encourage and support the formation of local artisan food businesses
15. TAKE AN INVENTORY OF "LOCAL TREASURES"
Collect information on local resources of merit – artisan food businesses, local groups and "heroes", restaurants, gardening experts, farms, etc. Also find and honor those with special food-related skills from every sector of our community.
16. ADDRESS FOOD JUSTICE ISSUES
Through the Food Bank, spiritual groups and social justice organizations, address the issue of unnecessary hunger in our community.
17. REACH OUT TO THE LOCAL HEALTH COMMUNITY
Inform health and nutrition practitioners about the availability and wellness benefits of fresh, nutrient-rich local produce vs. 5-day-old stuff trucked in from distant distribution centers.
18. REACH OUT TO ENVIRONMENTAL AND POLITICAL GROUPS ABOUT THE FOOD ISSUE
Even "green" and social justice groups may view food as merely a "side issue," not realizing its importance to our future. Few grow their own food. And political/social groups across the political spectrum can come together in support of local food and sustainability issues because we all want to enjoy fresh, delicious meals.
19.TAKE A COMMUNITY "LOCAL TRADE DEFICIT" INVENTORY
Find out what percentage of food that people eat is local and what is "imported" from afar.
20. EDUCATE POLITCAL CANDIDATES ABOUT SUSTAINABILITY ISSUES
Hold a "Sustainability Forum" for all candidates where we can ask questions about where they stand on sustainability issues and educate them about community concerns.
21. BANNING TRANSGENIC CROPS
Make Santa Barbara GE-FREE (no genetically motified or engineered organisms). Support the local group SBGE-free (sbge.free@lists.riseup.net)
22. ENCOURAGE FAIR TRADE PRACTICES AND LIVING WAGE LABOR.
23. TURN SANTA BARBARA INTO A FOOD MECCA
Become known as a place where we love and cherish delicious local organic food and prepare it in creative, delightful and delicious ways. Publicize this as a model for other cities.
24. ENCOURAGE SANTA BARBARA TO SIGN THE EARTH CHARTER.