The Great Warming - Call to Action Project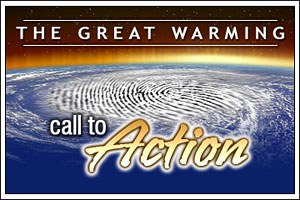 For the Future is proud to support a national initiative to focus public attention on climate change. The Fall release of the new documentary The Great Warming will be the centerpiece of a broad coalition effort to stimulate debate and activism about global warming. (See www.thegreatwarming.com)
The Great Warming, produced by Stonehaven and narrated by Alanis Morissette and Keanu Reeves, is a dramatic film about climate change that sweeps around the world to reveal how a changing climate is affecting the lives of people everywhere. It has been called "the best film about global warming ever shot", and taps into the growing groundswell of public interest in this topic to present an emotional, accurate picture of our children's planet. The Great Warming includes hard-hitting comments from scientists and opinion-makers about America's lack of leadership in what is certainly the most critical environmental issue of the 21st century, as well as new scenes documenting the emerging voice of the American Evangelical community urging action on climate change.
When The Great Warming opens in September it will be accompanied by the "Call to Action Project", a cooperative effort to support the film and use it as a key to broadening the debate. A broad coalition of NGOs and corporate sponsors will participate. Some of the organizations involved include Friends of the Earth, the Sierra Club, the Center for a New American Dream, the National Council of Churches, Sojourners and Call for Renewal, the Climate Institute, the Union of Concerned Scientists, Common Good, and numerous other organizations, including For the Future. The "Call to Action" will be supported by many individuals, including Congresswoman Lois Capps, John Kermond (director of outreach at NOAA), the Rev. Paul de Vries at New York Divinity School, and Rev. Gerald Durley from the Missionary Baptist Church in Atlanta. Corporate partners include Swiss Reinsurance, The Body Shop, and Krystal Planet.
When The Great Warming is released in some 600 theaters this fall, the Call to Action project participants will mount a publicity campaign to get people to see the film, and an information initiative to help people learn more about the problem and get involved in solutions. The project will help local organizations distribute materials in theaters, organize letter writing campaigns, lobby elected officials, and get the message out to the community at large. Interestingly, a major component of the campaign will involve leaders from the community of faith and the Creation Care movement, and an initiative to get local clergy involved in teaching their congregations about the dangers we face from climate change.
The Call to Action campaign won't be more liberal politics as usual. There's a startling intensity to this effort, growing out of a recognition that disaster is certain if we don't do something soon. Contact us at info@forthefuture.org for more information about how to be a part of the Call to Action campaign.