News Release
Santa Barbara, CA. January 13, 2005
Contact: linda (NoSpam) forthefuture.org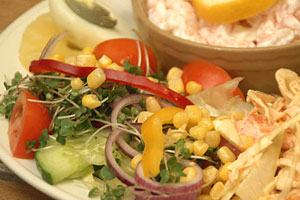 FOR THE FUTURE PRESENTS FREE EVENT ON RELOCALIZING FOOD: BEYOND THE 3000 MILE CAESAR SALAD
Lecture/Discussion by Richard B. Anderson, Linda Buzzell-Saltzman, Larry Buzzell-Saltzman
Tuesday, February 8, 7:00-9:00 pm
Townley Room, Santa Barbara Public Library
Relocalizing Food: Beyond the 3000-Mile Caesar Salad is the topic of a free discussion on Tuesday, February 8 from 7pm to 9pm in the Townley Room at the downtown Santa Barbara Public Library. The event will be presented by the Sustainable Small Cities project of For the Future, a Santa Barbara think tank, and the Santa Barbara Organic Garden Club.
Speakers will include Richard Bruce Anderson, Ph.D., Senior Fellow of For the Future, and Linda and Larry Buzzell-Saltzman, co-founders of the Santa Barbara Organic Garden Club who are also Fellows at For the Future.
At this presentation, leaders from the local food community will discuss whether or not Santa Barbara is adequately prepared to feed itself without undue reliance on distant food sources – the famous 3000-mile Caesar salad – in the face of looming crises like the end of cheap fossil fuel supplies, climate instability, mudslides, earthquakes or 9/11 events that could make air travel, trucking and the continued use of petroleum-based pesticides and herbicides prohibitive.
For the Future was founded in 2004 by Richard Bruce Anderson, Ph.D. to encourage a process of reassessment and revisioning of our way of life at every level of American society. Its website is www.forthefuture.org
Dr. Anderson is the author of Waking Up from the American Dream: How to Live a Happy, Satisfying Life in Our Unhealthy Consumer Culture.and has published numerous op-ed pieces on consumerism and related subjects in major newspapers such the Santa Barbara News-Press, the Los Angeles Times, the Chicago Tribune, Hopedance and various other periodicals. Many of his articles have been republished in newspapers across the United States as well as in the International Herald Tribune.
Since 1998, Dr. Anderson has been a member of the board of directors of Seeds of Simplicity, a national organization that encourages voluntary simplicity. From 1993 to 1999 Dr. Anderson served as a Lecturer in the Environmental Studies Department at UCSB where he developed a class on the human future as a whole that was originally funded by the Institute for Global Conflict and Cooperation.
Dr. Anderson holds a Ph.D. in Educational Psychology, a master's degree in Educational Technology, and a bachelor's degree in Combined Social Sciences, all from the University of California, Santa Barbara.